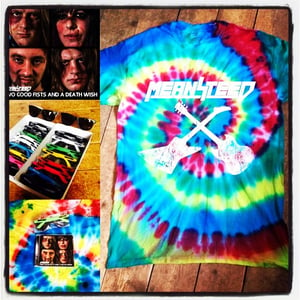 £

18.00
Limited Edition Tie Dye T-Shirts
Crossed guitar print with unique tie dye design on each shirt.
Select from:
Album Deal (£30):
-Tie Dye T-Shirt
-Two Good Fists Album
-Meansteed Sunglasses
Glasses Deal (£20):
-Tie Dye T-Shirt
-Meansteed Sunglasses
T-Shirt Only (£18)
Colours will vary in t-shirt and sunglasses and only size can be selected for t-shirt.
This is a pre order service, so you will be notified when your order has started to be processed and again when it is ready to be shipped.